Translated from Polish:
New Features:
Special events will occur every two days, on weekends more often.
The level of happiness and houses is now displayed in easier to read way at the top of the game screen.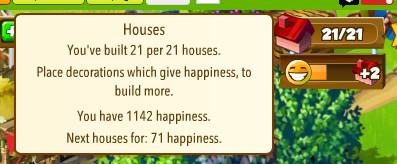 Decorations were rebalanced, now more expensive ones give you more.

Bugfixes:
Remove bug with not adding gifts from friends and need to refresh the game.
Improve the functioning of market.
Removal of errors associated with bad value of happiness and houses.
Remove many reasons of oops.
Remove the bug with bad display of boxes' image.
Removal of many other errors that occur on some computers.
Source: http://nk.pl/#grupy/283768/forum/345#post3 (Polish).
Ad blocker interference detected!
Wikia is a free-to-use site that makes money from advertising. We have a modified experience for viewers using ad blockers

Wikia is not accessible if you've made further modifications. Remove the custom ad blocker rule(s) and the page will load as expected.